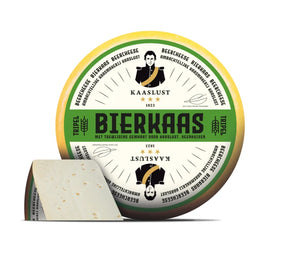 Kaaslust Triple Beer cheese
Kaaslust Bierkaas is made with Tripel beer from the Maallust brewery, a firm
hopped, full malty beer with 9% alcohol. Like all Kaaslust cheeses, 
full-fat pure cow's milk is been used. Furthermore, the cheeses are free
of smell, color and flavoring. A special lactic acid culture is used that makes its own alcohol. Because of this unique recipe, this cheese has a strong, slightly fruity, full beer taste.
---
We Also Recommend